Description
Rockcoat XP95 – 1000ml
Ceramic hydrophobic nano-coatings for mineral surfaces play a key role in ensuring their long-term protection and aesthetic appearance. The nano-coatings prevent the surface from getting wet, provide self-cleaning properties, and the surface will wash off itself when water flows. This significantly reduces the growth of green algae and mould colonies. It minimises the ingress of water into the surface structure, which turns into ice in the winter at freezing temperatures and destroys the entire object, causing corrosion.
Rockcoat XP95 is active for 10 years.
Nano coating is moisture permeable.
Does not change the colour of the coated surface.
Gives self-cleaning properties.
Completely safe for mineral surfaces.
Made on a water basis.
Application Method:
Shake before use. Apply the product on a dry and clean surface with a brush, roller or spray with a sprayer. Protect coated surface from water for at least 4 hours.
Metal, glass, plastic, and wooden surfaces, as well as plants, must be protected before applying the product.
When covering the clinker stone surface, use the preparation diluted with water in a ratio of 1:5.
Used at a temperature of 5 – 30 °C.
It is not recommended to use the product as a component in the production of plaster mass, paints and varnishes.
Before using the product, we recommend performing a compatibility test on a small area in an inconspicuous area.
The consumption rate of the product is: 0.15-0.30 L/m2
• Colour: colourless liquid
• Odour: odourless.
• Dilution ratio: product for direct use.
Product Safety
Warning: Harmful if swallowed. May be corrosive to metals. May cause an allergic skin reaction.
If medical advice is needed, have the product container or label at hand. National Poisons Information Service: +44 121 507 4123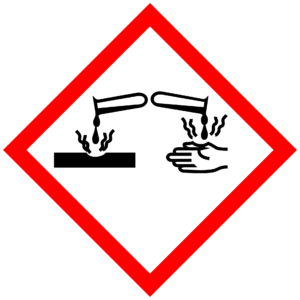 Precautionary statements: If medical advice is needed, have a product container or label at hand.
KEEP OUT OF REACH OF CHILDREN.
Wash thoroughly after handling. Wear protective gloves/face protection/protective clothing/protective footwear. IF SWALLOWED: Rinse mouth. Do NOT induce vomiting. IF ON SKIN (or hair): Take off immediately all contaminated clothing. Rinse skin with water or shower. IF IN EYES: Rinse cautiously with water for several minutes. Remove contact lenses, if present and easy to do. Continue rinsing. Dispose of contents/containers according to the separate collection system used in your municipality.
Ingredients: water; Tricalcium propylsilanetriolate 2,5 <10%; potassium hydroxide <1%;
Excipients: UV stabilisers; adhesion promoters; silica nano compounds;
Safe storage temperature: 5 ºC – 30 ºC
Shelf life: 36 months.
All pictures shown are for illustration purposes only. The actual product may vary due to product enhancement.